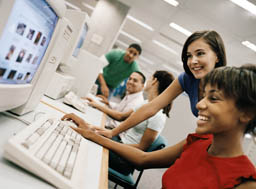 Use the resources on Election Central to make the most of your classroom instruction!
How Can Election Central Help YOU Teach Civics and Government?
How Can Election Central Help YOU Teach Civics and Government?
The articles on Election Central offer engaging, student-centric coverage of current events. The stories and ideas allow you to teach the campaigns, elections, and civic participation as you connect with your students in the powered-up world that they're used to as digital natives.
Using Election Central
Assign an article or set of articles for homework. Then, launch a class discussion by having students respond to the questions that accompany each of the articles. Project the article to the Whiteboard for in-class discussion.
Post the article on a classroom blog or discussion board and have the students respond to the questions over the weekend before the content is covered in class.
Use the Connect & Share box located on the landing page and on each article's page to post a link to a class site or teacher-created blog
Assign an article and the questions to get students thinking critically about the topic at hand. For instance, see this You Decide article about Health Care.
Many articles have accompanying activities that may be appropriate for group work or project ideas.
Links and video clips to other strong resources around the Internet are embedded within articles or have activities built around them to allow teachers to take the content further.
Lesson plans and teacher tips are posted here as well.
Using Technology in the Classroom
Connecting with your digital natives in the classroom and beyond can take many forms. Using social media in the classroom sounds like a great idea. Teachers are always looking for fresh strategies to enhance the way information is presented or to facilitate student interaction. But where do you start? You can use web-based products to improve student learning by using technology they are already familiar with. Integrate social media into your instruction!
We've even provided to you some suggestions about how to best evaluate the types of political coverage you will find on the Internet.
A Few 21st Century Options
GoogleDoc is a Web-based storage space.  Students can store project documents and papers in electronic format here. Documents can be developed and edited by student teams as students learn how to collaborate in a digital environment. Because these documents are stored on the Internet, student teams can access and work on their project documents outside of the classroom. IMPORTANT NOTE: Students need a Google account for this; Google provides a general sign-up and registration for educators.
Teacher-created blogs allow you to create an online space for communication and collaboration between two or more students, between students and teachers, between students and authors, and with students in other towns, states, or even countries. One teacher created a blog to guide students through their reading of a history book about the Revolutionary War.
Using free software that is available from companies such as WordPress or Blogger, you can easily create your own blog. Use it to present a synopsis of each chapter and allow questions and discussion in the comments section of each blog post. Ask students to take turns leading a discussion on a particular topic or reading. A blog could even be used to prepare for assessment. Schedule online "office hours," then sign on and field questions from your students. You might be surprised—they may answer each other's questions before you do!
You can easily moderate all comments to ensure students stay on topic and remain respectful.
Parental involvement is another potential benefit of a teacher-based blog. You could use your blog as a parent-bulletin board to let parents see what their child is required to do in class. Use it to share important information between school and home and improve the dialogue between students, their parents, and teachers.
Studycasts are quick audio recordings of study notes or class lectures. They are posted on a classroom Web site for students to listen to on their computers or to download onto their portable mp3 players. Students can use this digital format to review class instruction and note-taking or to review for their tests anywhere and at any time.
These studycasts can even be set as a subscription on iTunes or through other RSS feeds so they are automatically delivered to students. Students have multiple opportunities to review material and you have another resource to differentiate instruction for auditory learners.
Share What You Know
After reviewing these different types of classroom technology, decide which one works best for you. Develop a model lesson that shows how you will introduce this teaching method to your class and how it will work with a class project you have planned for a future unit of study.
Distribute your model lesson to the other teachers in your school and ask for their feedback. Take their comments and adjust your model lesson, then have the new model reviewed. Submit the finalized model lesson plan to your curriculum coordinator for approval.
More Tools for Teachers
Click HERE to see a list of suggested articles from BTW : Stuff YOU Should Know to teach current events in your social studies classroom.
McGraw-Hill Professional Development